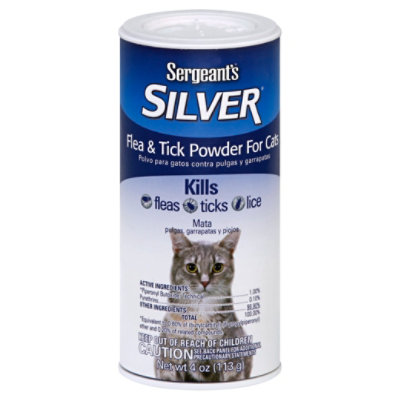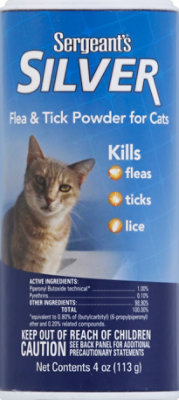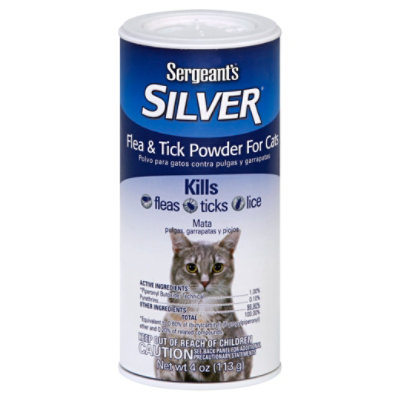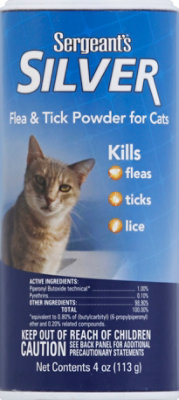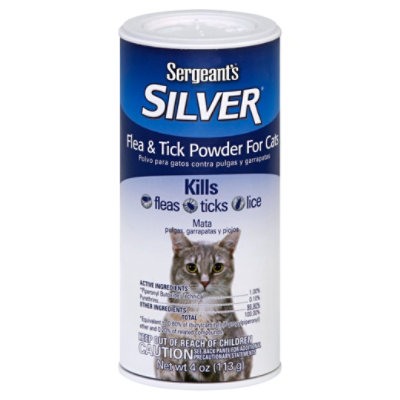 Sgts Silver Flea & Tick Cat Powder - 4 OZ
Flea & Tick Powder, for Cats
Kills: fleas; ticks; lice. Made in USA.
Active Ingredients: Piperonyl Butoxide, Technical (Equivalent to 0.80% of (Butylcarbityl) (6-Propylpiperonyl) Ether and 0.20% of Related Compounds) (1.00%), Pyrethrins (0.105), Other Ingredients (98.90%).
Warning
Contains: Keep out of reach of children. Precautionary Statements: Hazards to humans and domestic animals. Humans: Avoid contact with skin, eyes and breathing dust. Wash hands thoroughly with plenty of soap and water after handling and before eating, drinking, chewing gum, using tobacco or using the toilet. Animals: Do not apply product directly in or on eyes, mouth, nose or genitalia of animals. Do not use on (or cause exposure to) kittens under 12 weeks of age. Consult a veterinarian before using this product on debilitated, aged, medicated, pregnant or nursing animals. Sensitivities may occur after using any pesticide product for pets. If signs of sensitivity occur bathe your pet with mild soap and rinse with large amounts of water. If signs continue, consult a veterinarian immediately. First Aid: If on skin or clothing take off contaminated clothing; rinse skin immediately with plenty of water for 15-20 minutes; call a poison control center or doctor for treatment advice. If inhaled move person to fresh air; if person is not breathing, call 911 or an ambulance, then give artificial respiration, preferably mouth-to-mouth, if possible; call a poison control center or doctor for further treatment advice. If in eyes hold eye open and rinse slowly and gently with water for 15-20 minutes; remove contact lenses, if present, after the first 5 minutes, then continue rinsing eye; call a poison control center or for further treatment advice. Hot Line Number: Have the product container with you when calling a poison control center, doctor or veterinarian or going for treatment. For information on this pesticide product (including health concerns, medical emergencies or pesticide incidents), you may call 1-800-781-4738.
Directions
Read entire label before each use. Use only on cats. Shake well before use. It is a violation of Federal law to use this product in a manner inconsistent with its labeling. For use on cats and kittens: Do not use on animals under the age of 12 weeks. To control fleas, ticks and lice on cats, generously apply powder over the entire body. To ensure thorough coverage, rub dust into hair, on legs, feet, between toes and pads. In addition, follow application with a complete brushing of the cat's hair to remove dead insects. Dust bedding, kennel and sleeping area regularly. Repeat as necessary but do not treat more than once a week. Pets may be treated indoors or outdoors. In order to help reduce the occurrence of fleas and ticks, this product is best if used year round. Storage and Disposal: Pesticide Storage: Store this product in original container in a cool dry area inaccessible to children and pets and away from heat and sunlight. Avoid exposure to moisture. Pesticide Disposal: If Empty: Nonrefillable container. Do not reuse or refill this container. Offer for recycling, if available. If partly filled call your local solid waste agency for disposal instructions. Never place unused product down any indoor or outdoor drain.
About the Producer
SERGEANTS PET CARE PRODUCTS