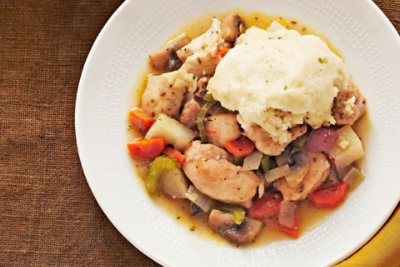 Slow-Cooker Chicken Pot Pie
Turn to your slow cooker for a classic biscuit-topped chicken pot pie with savory long-simmered flavor and plenty of veggies.
4 hour, 20 mins
Total cook time
Total original price
* Estimated price based on adding all ingredients to cart.
Main Ingredients
⅓ cup all-purpose flour,
1¾ teaspoons poultry seasoning,
1¾ teaspoons dried thyme, , divided
½ teaspoon salt,
¼ teaspoon ground black pepper,
2 pounds boneless, skinless chicken thighs and breasts, cut into 1-inch pieces,
2 tablespoons vegetable oil, , divided
2 large carrots, peeled and cut into half-moons,
2 stalks celery, sliced,
2 red-skin potatoes, scrubbed and cut into 1/2-inch pieces,
8 white mushrooms, thinly sliced,
1 large onion, chopped,
1½ cups low-sodium chicken broth,
2¼ cups biscuit mix,
⅔ cup milk,
Cooking Instructions
Step 1
Combine flour, poultry seasoning, 1 teaspoon thyme, salt and pepper in a large sealable bag; add chicken pieces to bag and toss to coat.
Step 2
Heat 1 tablespoon oil in a large nonstick skillet over medium-high heat. Remove chicken from bag with a slotted spoon, shaking off excess flour. Set remaining flour mixture aside and add chicken to skillet. Cook for 5 minutes, stirring occasionally, or until browned; place in slow cooker.
Step 3
Add the remaining 1 tablespoon oil to the pan and stir in carrots, celery, potatoes, mushrooms and onion; cook, stirring often, for 5 minutes. Stir remaining flour mixture into skillet and cook 1 minute. Add broth and bring to a boil. Pour skillet contents into slow cooker. Cover and cook on High for 4 hours or Low for 7 hours.
Step 4
When there is 1 hour cook time remaining, stir together biscuit mix, milk and the remaining 3/4 teaspoon thyme. Drop biscuit dough by the tablespoonful over the top of the chicken mixture. Cover slow cooker with a cotton dish towel and place the lid on top. Continue cooking until the biscuits are cooked through.
All recipe ingredients should be cooked to a safe internal temperature according to USDA guidelines. After preparing a recipe, please store any leftovers in the refrigerator.