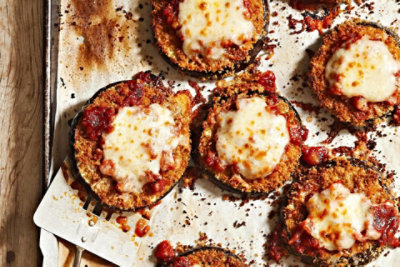 Recipe by
Better Homes & Gardens
Baked Eggplant Parmesan
There's no layering required for this easy baked eggplant recipe. Each eggplant slice gets a crispy coating of panko breadcrumbs and is topped with pasta sauce and ooey-gooey cheese.
1 hour, 30 mins
Total cook time
Total original price
* Estimated price based on adding all ingredients to cart.
Main Ingredients
Nonstick cooking spray,
1 eggplant (1 1/2 pounds),
1 teaspoon salt,
2 egg whites, lightly beaten,
1½ cups whole-wheat panko,
3 tablespoons grated Parmesan cheese,
1 teaspoon garlic powder,
1 teaspoon dried basil, crushed,
1 teaspoon dried oregano, crushed,
1 cup tomato-and-basil pasta sauce,
¾ cup shredded Italian-blend cheeses (4 ounces),
Cooking Instructions
Step 1
Preheat oven to 375°F. Line a large baking sheet with parchment paper; coat paper with cooking spray. Set aside. Cut eggplant crosswise into eight (about 3/4-inch-thick) slices, discarding small ends. Place slices on a double layer of paper towels. Sprinkle all sides of eggplant with the salt. Let stand about 30 minutes or until liquid is visible on the surface. Rinse salt and liquid off eggplant slices; pat dry with paper towels.
Step 2
Place egg whites in a shallow dish. In another shallow dish combine panko, Parmesan cheese, garlic powder, basil and oregano.
Step 3
Dip eggplant slices in egg whites, then in panko mixture, turning to coat both sides of each slice. Place coated slices on the prepared baking sheet. Sprinkle eggplant slices with some of the remaining panko mixture, if present; discard the remaining. Lightly coat tops of coated eggplant slices with cooking spray.
Step 4
Bake for 12 to 15 minutes or until tops are lightly browned. Carefully turn eggplant slices. Bake for 12 to 15 minutes more or until lightly browned and eggplant is tender.
Step 5
Remove from oven. Increase oven temperature to 400°. Spoon 2 tablespoons of the pasta sauce onto each eggplant slice. Divide shredded cheese evenly among eggplant slices. Bake for 8 to 10 minutes more or until cheese is lightly browned.
All recipe ingredients should be cooked to a safe internal temperature according to USDA guidelines. After preparing a recipe, please store any leftovers in the refrigerator.