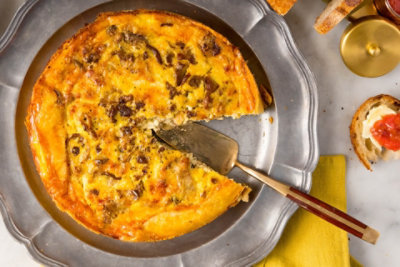 Spring Mushroom Quiche
There are many, many ways to enjoy mushrooms, but this is one of our favorites. Whether you're a mushroom aficionado or a skeptic, give this quiche a try—the classic combination of mushrooms, shallots, and thyme, topped with oozy Alpine cheese (Comté or Gruyère), melts beautifully into a quivering egg-based custard. Of course, you can make pie dough from scratch, but if you need to get this on your table more quickly (and, just as important, more often!), having a prepared crust in your corner helps this comes together in a jiff.
1 hour, 20 mins
Total cook time
Total original price
* Estimated price based on adding all ingredients to cart.
Main
1 tablespoon vegetable oil
1 pound oyster or cremini mushrooms, stems trimmed, and large caps quartered and cleaned or 1 pound of white mushrooms, cleaned and thinly sliced
Kosher salt
Freshly ground black pepper
1 tablespoon unsalted butter
2 small shallots, minced
1 tablespoon fresh thyme leaves, chopped
1/2 cup shredded Comté or Gruyère cheese
1 prepared savory pie crust or quiche crust, homemade or store-bought
¼ cup grated Parmesan cheese
1 cup milk
1 cup heavy cream
3 large eggs, lightly beaten
Freshly grated nutmeg, to taste
Cooking Instructions
Step 1
Preheat the oven to 325°F with the rack in the middle. Heat the oil in a large skillet over TK heat. Add the mushrooms, a few at a time, and season with salt and pepper. Increase the heat to high and cook, stirring, until the mushrooms soften, about 5 minutes. Reduce the heat to TK, add the butter, shallots, and thyme, and cook until the mushrooms are tender, 12 minutes more. Taste for seasoning and add more salt and pepper, if necessary. Let cool.
Step 2
Scatter ¼ cup of the Comté and half of the cooled mushrooms over the bottom of the prepared pie crust. In a blender, combine the milk, cream, eggs, and nutmeg. Pour half of the milk mixture into the pie crust over the cheese and mushrooms. Repeat with the remaining Comté, mushrooms, and milk mixture. Sprinkle with the Parmesan and bake until richly browned on top and the custard is set, about 1 hour 20 minutes.
Step 3
Remove from the oven and let cool in the pan until just warm. Cut into slices and serve warm or at room temperature
All recipe ingredients should be cooked to a safe internal temperature according to USDA guidelines. After preparing a recipe, please store any leftovers in the refrigerator.