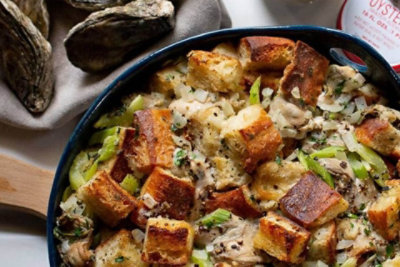 Savory Oyster and Sage Dressing
1 hour, 50 mins
Total cook time
Total original price
* Estimated price based on adding all ingredients to cart.
Main
2 Cups Shucked Eastern Oysters, In their Liquor
5 cups White Bread, Cubed &Toasted
3/4 cup unsalted butter
1 medium White Onion, Diced
2 celery stalks, Diced
2 teaspoons kosher salt
Freshly ground black pepper
3 tablespoons Italian parsley, chopped
1 tablespoon each fresh thyme& fresh Sage, chopped
Cooking Instructions
Step 1
Put the oysters in a strainer over a medium bowl to catch their liquor. Reserve 3/4 cup of the oyster liquor. In a large bowl, combine the bread cubes and oysters.
Step 2
Melt 1/2 cup of the butter in a large skillet over medium-high heat. When the foaming subsides, add the onions, celery, salt, and season with pepper, to taste. Sauté mix, stirring, until soft, about 10 minutes. Add the parsley, thyme, sage& reserved oyster liquor, and bring to a boil. Transfer the Onion-herb mixture to the bread and oysters and stir to combine. Set aside for 10 minutes. Preheat the oven to 400 degrees F.
Step 3
Remove the Oyster - bread mixture to a buttered 1-quart casserole dish, pour remaining butter (melted) on top, and bake until golden brown. Cooking time varies with depth of casserole.
Step 4
Remove from the oven and serve immediately.
All recipe ingredients should be cooked to a safe internal temperature according to USDA guidelines. After preparing a recipe, please store any leftovers in the refrigerator.