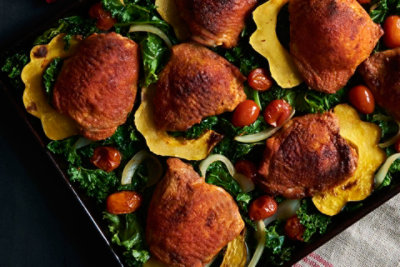 Roasted Chicken with Kale, Acorn Squash & Cherry Tomatoes
Total original price
* Estimated price based on adding all ingredients to cart.
Main
1½ teaspoons garlic powder
1½ teaspoons sugar
1 tablespoon paprika
1 tablespoon salt
6-8 bone-in chicken thighs (about 3 pounds)
2 tablespoons olive oil (or enough to coat vegetables)
1 small bunch kale, stems removed (about 5 cups)
1 medium onion, sliced (about 1 cup)
1 acorn squash, cut into ¼" slices
1 dry pint cherry tomatoes (about 2 cups)
7 sprigs thyme
Cooking Instructions
Step 1
Preheat oven to 425° F. Mix garlic powder, sugar, paprika, and salt in a large bowl. Add chicken thighs and rub with spice mix. In another large bowl, toss kale, onion, squash, cherry tomatoes and thyme in olive oil, then layer on sheet pan. Place chicken on top of vegetables and roast for 15 minutes. Turn pan 180 degrees and continue to roast until chicken browns and reaches an internal temperature of 165° F, about 20 minutes.
Step 2 :: Note
Chop and freeze kale stems to use in soup or another dish.
Step 3 :: Note
Delicata is another small winter squash with skin soft enough to eat when roasted.
All recipe ingredients should be cooked to a safe internal temperature according to USDA guidelines. After preparing a recipe, please store any leftovers in the refrigerator.