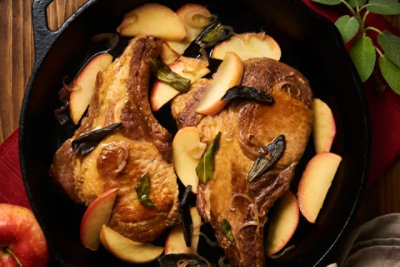 Pan Seared Pork Chops with Sage Apples and Calvados
Total original price
* Estimated price based on adding all ingredients to cart.
Main
2 teaspoons canola oil, divided (enough to coat pan twice)
2 teaspoons kosher salt (or to taste)
2 thick cut bone‐in pork chops (about 1¼ pounds)
2 tablespoons thinly sliced shallots
12 sage leaves
2 medium apples (about ¾ pound)
¼ cup calvados or brandy
Cooking Instructions
Step 1
Core and slice apples ¼" thick or less. Pour 1 teaspoon oil into a large skillet over high heat. Liberally salt pork chops on both sides. When oil shimmers and pan is very hot it's time for the meat to go in. Sear for about 4 minutes on each side until a nice golden crust forms and internal temperature reaches 145 degrees. Remove chops to a plate and drain oil from pan.
Step 2
Return skillet to medium heat and add 1 teaspoon of canola oil. Add shallots and sage and sauté for 1 minute. Then stir in apples and cook for another minute. Turn off flame and add calvados. Carefully return to medium heat – if you are cooking on a gas stove, the alcohol may flame up in the pan until it burns off (flambé). If this happens, turn off heat and let it burn off (it should take about a minute) and then return to heat. Stir and cook for another 2‐3 minutes until apples soften and liquid evaporates. To serve in the skillet, place pork chops on top of apples and drizzle with any leftover juices.
Step 3 :: Helpful Hints
You will need ventilation – searing meat creates smoke. If the flambé is just too much, use white wine instead of calvados. Wine has a lower alcohol content, so it will flame less. Use a cast iron pan if you have one.
All recipe ingredients should be cooked to a safe internal temperature according to USDA guidelines. After preparing a recipe, please store any leftovers in the refrigerator.