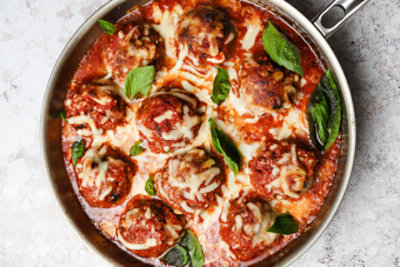 Mozzarella Stuffed Meatballs
Lovers of mozzarella cheese, beware! These Oven Baked Meatballs are in your face cheesy and perfect whether served over creamy polenta or pasta! Best part? The cheese pull when you slice into them! You're going to want to make these TONIGHT.
Total original price
* Estimated price based on adding all ingredients to cart.
Main
2 lbs ground beef (80/20)
2 large eggs
½ cup traditional breadcrumbs
2 tsp dried oregano
2 tsp garlic powder
2 tsp onion powder
2 tsp Kosher salt
½ tsp freshly ground black pepper
6 oz fresh mozzarella, cut into ½" cubes
2 Tbsp neutral oil, such as grapeseed, avocado oil, canola oil, or vegetable oil
1 cup shredded mozzarella
¼ cup grated Parmigiano Reggiano, plus more for serving
Fresh basil leaves, for serving
32 oz marinara sauce
Cooking Instructions
Step 1
Make the meatball mixture. In a large mixing bowl, whisk 2 eggs. To this, add 2 lbs ground beef, ½ cup breadcrumbs, 2 tsp dried oregano, 2 tsp garlic powder, 2 tsp onion powder, 2 tsp Kosher salt, and ¼ tsp of black pepper. Use your hands to gently mix, trying hard not to overwork the meat, but continuing on until everything is very well mixed.
Step 2
Form the meatballs. Use a large cookie scoop to divide the meatball mixture into 10-12 equal sized meatballs, about 2 oz each. Press each portion down into a flat disc, then place 2-3 cubes of fresh mozzarella cheese in the center. Carefully mold the ground beef around the cheese to seal if completely. Roll into uniform meatballs, then set aside.
Step 3
Preheat an oven to 350F. When ready to cook, heat a large skillet over medium-high heat. Add 2 Tbsp of neutral oil then pan sear the meatballs for 4-5 minutes, until golden brown. Use tongs to flip each meatball over, then carefully pour the marinara sauce on top (beware, it will splatter!).
Step 4
Bake the meatballs. Sprinkle on 1 cup of shredded mozzarella and ¼ cup grated Parmesan, then transfer the skillet to the oven. Bake for 20-25 minutes, or until warm throughout and the cheese inside and outside has melted. Serve with fresh basil leaves and additional grated Parmesan, if desired.
Step 5 :: Helpful Hints
To reheat: Cover the meatballs in a skillet or baking dish with foil, then place in an oven preheated to 350F. Bake for 20-25 minutes, or until warm throughout.
Step 6 :: Helpful Hints
To make ahead: Form the meatballs, then freeze or cook and refrigerate overnight. If uncooked and frozen, defrost overnight in a fridge, then continue with pan searing, then transfer to an oven to finish.
All recipe ingredients should be cooked to a safe internal temperature according to USDA guidelines. After preparing a recipe, please store any leftovers in the refrigerator.