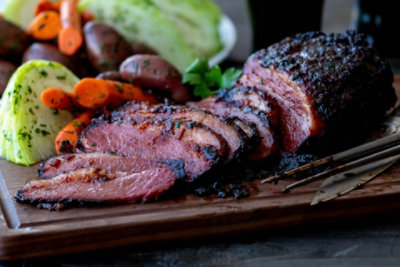 Horseradish & Mustard Glazed Corned Beef
Total original price
* Estimated price based on adding all ingredients to cart.
For the Corned Beef Brisket:
2 - 6–8 lb. Corned beef briskets*
2 Medium onions, quartered
2 Carrots, sliced
2 Stalks celery, quartered
¼ Bunch Italian parsley, washed
1 Tbsp Pickling spice
1 Tbsp Kosher salt
1 tsp Black Peppercorns
* You can make just one brisket, but we promise that you'll wish you had 2…even 3!
For the Horseradish & Mustard Glaze:
2 Tbsp Unsalted butter
½ cup Brown sugar
½ cup Soy sauce
½ cup Ketchup
2 Bay leaves
1 Medium onion, finely diced
2 Large garlic cloves, thinly sliced
½ cup Balsamic vinegar
½ cup Molasses
½ cup Whole grain mustard (with seeds)
1 cup Orange marmalade
½ cup Dijon mustard
4 oz. White prepared horseradish
Cooking Instructions
Step 1 :: To boil the brisket:
Rinse meat in cold water, then place into a large pot with all vegetables and spices. Add enough cold water to submerge the brisket by a few inches and bring to a boil. Cover the pot and reduce heat to maintain a gentle simmer until the meat is fork tender, about 2–3 hours.
Step 2
Remove from heat and transfer the meat to a large, clean container. Cool the liquid and meat, then pour enough of the cooking liquid back over corned beef to submerge. Cover and store in the refrigerator overnight, or up to 3 days ahead.
Step 3 :: To make the glaze:
Place the butter into a 4 qt saucepan and melt over medium-high heat. Add the onions, garlic and bay leaves to the pan and sauté until the onions are clear, about 8 minutes. Add the remaining Step 1 ingredients—brown sugar, soy, balsamic vinegar, ketchup and molasses. Stir to evenly combine and bring to a simmer, cooking for 2 minutes. Turn off heat. Add the Step 2 ingredients—whole grain and Dijon mustards, marmalade and horseradish. Whisk to incorporate. Reserve warm.
Step 4 :: Glazing/oven preparation:
Preheat the oven to 375˚ F. Remove the brisket from the poaching liquid and drain thoroughly. Discard the poaching liquid. Trim a little of the excess fat from briskets to allow glaze to adhere to meat, leaving about ¼" of fat.
Step 5
Line roasting pan with foil and parchment (the glaze is sticky—parchment will help it adhere to the meat and make clean up easy!) and place the briskets onto the pan, fat side up. Place into the preheated oven for 20 minutes.
Step 6
After 20 minutes, spoon glaze to cover the entire surface of the meat and return to the oven for about 10–15 minutes. Repeat, applying another coat of glaze and basting with pan drippings and roast for another 10–15 minutes.
Step 7
Flip the brisket over and coat the bottom with glaze to cover the entire surface of the meat and return to the oven for another 10–15 minutes. Repeat. Your brisket should be a deep dark brown, shiny and gooey on both sides.
Step 8
Flip over so that the fat side is up and apply another coating of glaze, cook for another 15 minutes. Total oven time is approximately 2 hours to get the corned beef well glazed and tender.
Step 9
When beef is fork tender remove from pan and let rest. Slice across the grain and serve with mustard
All recipe ingredients should be cooked to a safe internal temperature according to USDA guidelines. After preparing a recipe, please store any leftovers in the refrigerator.