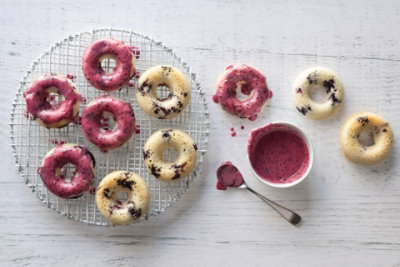 Gluten-Free Baked Blueberry Donuts
Transform classic donuts with this baked, gluten free version! Made with our exclusive Open Nature® Gluten Free Yellow Cake & Cupcake Mix, Signature SELECT® Soleil Sparkling Water and blueberries, this blueberry donut recipe is delicious and versatile.
Total original price
* Estimated price based on adding all ingredients to cart.
Donut Batter
1 package Open Nature® Gluten Free Yellow Cake & Cupcake Mix
1 (12-ounce) can Signature SELECT® Soleil Sparkling Water Beverage, berry or lemon flavor
1 cup fresh blueberries, rinsed and dried
Blueberry Icing Drizzle
1/3 cup fresh blueberries
1 teaspoon fresh lemon juice
1/4 teaspoon lemon zest
1 ½ cups powdered sugar
Cooking Instructions
Step 1
Preheat oven to 350°. In a medium bowl, add the cake mix and the sparkling water. Whisk for 1 minute. (Note: mix may seem runny and clumpy at first, but as you continue whisking, the clumps will break up and mix to thicken).
Step 2
Prepare a (3-inch) donut baking pan by spraying with non-stick cooking spray. Fill each donut 3/4 of the way full with batter. Add 4-5 blueberries to each donut.
Step 3
Bake for 13 - 15 minutes. Carefully remove donuts from baking pan and allow to completely cool on parchment paper
Step 4
Meanwhile, to make icing drizzle, combine all ingredients into a mini-food processor. Once donuts have completely cooled, icing drizzle 1 tablespoon of icing onto each. Or, pour icing into a bowl and dip the top of each donut into icing. Enjoy immediately!
Step 5 :: helpful hints
To make the icing drizzle a bit healthier, use Open Nature® Icelandic Style Vanilla Nonfat Yogurt in place of the powdered sugar. Add 1 -2 tablespoons OOrganics® honey, as well.
Step 6 :: helpful hints
Diced strawberries can replace the blueberries for a different flavor profile.
Step 7 :: helpful hints
For a different flavor combination, use Open Nature® Gluten Free Brownie Mix for a "chocolate-covered blueberry baked donut" taste.
All recipe ingredients should be cooked to a safe internal temperature according to USDA guidelines. After preparing a recipe, please store any leftovers in the refrigerator.