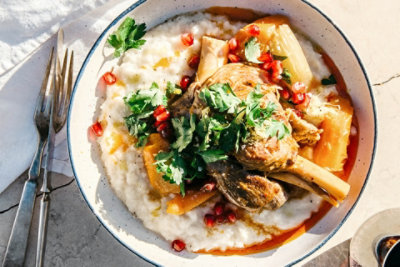 Easy Winter Braise: Slow-Roasted American Lamb Shank with Herbed Gremolata with Creamed Fonio
Lamb shank is an under-utilized treasure: all flavor and so easy on the work you'll actually feel like you've cheated serving this stunning dish to family and friends. Start with aromatics (onion, carrots, celery, bay leaf) and load up on the braising liquid with flavor from garlic, cinnamon and heaps of smoked paprika, which does double duty by deepening the color of your finished broth. I loved learning about and playing with fonio, Kings newest ancient grain offering imported from West Africa. I learned that it benefits from being treated like polenta, adding in milk, butter and cheese for a luscious finish that's healthier than mashed potatoes, but just as good. Finish this dish with a loose herb gremolata, which is big on flavor and color, and the surprising pop and allure of fresh pomegranate.
Total original price
* Estimated price based on adding all ingredients to cart.
Main
4 large lamb shanks, (2½ to 3 lbs total)
2 tsp kosher salt
½ tsp freshly ground black pepper
2 Tbsp extra virgin olive oil
¼ cup dry white wine (such as Sauvignon Blanc)
4 cups low-sodium chicken broth
1 large onion, quartered or sliced
2 large carrots, chopped into chunks
2 stalks celery, chopped into chunk
2 bay leaves
1 garlic clove
1 stick cinnamon
1 stick cinnamon
Herb Gremolata
1 lemon
½ cup coarsely chopped fresh flat-leaf Italian parsley
1 Tbsp extra virgin olive oil
kosher salt, to taste
freshly ground black pepper
½ cup pomegranate pips, for sprinkling
Creamed Fonio "Risotto"
3½ cups water
2 cup fonio
1¼ tsp salt
1 cup whole milk
4 tbsp unsalted butter
1 cup gruyere or gouda or a combination, grated
⅓ cup finely grated parmesan cheese
Cooking Instructions
Step 1
Preheat oven to 300° F. Place the lamb shanks on a plate and season generously on all sides with salt and pepper; rub into the meat. Heat the oil in a large Dutch oven with lid over medium-high heat. Add the shanks and cook about 2 minutes on each side until they have a deep brown crust. Transfer to a plate.
Step 2
Add the white wine to the Dutch oven and scrape the brown bits off the bottom with a wooden spoon. Add the broth to the pan along with the carrots, celery, onion and spices. Whisk or stir the spices in. Cover and bring to a simmer over medium-high heat. When it reaches a constant simmer, put the Dutch oven in the oven and cook about 2½ hours or until meat is tender and pulls away from the bone easily (but hasn't fallen off yet). While cooking, flip the shanks once or twice so they are constantly immersed in liquid (to keep them moist and tender).
Step 3
Remove the lamb shanks to a plate, cover with foil to keep warm. Place the Dutch oven on the stove over medium-high heat. Skim off any excess fat on the surface. Simmer the liquid over medium heat until it has thickened slightly and reduced to about 1¾ cups.
Step 4
Meanwhile, make the herb gremolata. Use a microplane to strip the lemon of its skin. Stir together with the parsley and olive oil. Season with a pinch of salt and pepper.
Step 5
To make the fonio, boil water in a medium saucepan over medium heat. Season with salt. Stir in the fonio and cook, stirring frequently, until fonio is soft but not dry, about 5 minutes (The mixture should be loose. Fonio tightens as it sits and cools and will become creamier as you add the dairy and butter). Add milk, butter and cheese, stir together over very low heat. Serve warm, immediately.
Step 6
Serve shanks, two per person, on top of cheesy fonio in a shallow bowl. Top with cooked veggies and herb gremolata and sprinkle with pomegranate pips. Spoon the reduced cooking liquid over the top.
Step 7 :: QUICK COOK:
To make this dish in an Instant Pot or other multicooker, combine the shanks, salt, pepper, wine, broth, vegetables and herbs in the pot of the multicooker. Set it on the pressure cooker to the MEAT setting, or set the timer for 45 minutes. Release the pressure after cooking is finished and open the pot: the meat should be tender and almost ready to fall off the bone, but still holding its shape, and the broth deep red and flavorful, with tender vegetables. Serve as above.
Step 8 :: REHEATING FONIO:
To reheat creamed fonio, transfer to a medium pot; add ⅓ cup more each milk and water and stir constantly with a whisk or a sturdy wooden spoon over low heat until creamy and warmed through.
Step 9 :: FONIO CAKES:
The mixture will tighten as it cools. If you have leftovers, scoop by ¼ cupfuls and pack into thin patties. Refrigerate overnight. Dredge lightly with flour, egg and panko bread crumbs and fry in a thin layer of hot oil. Serve with fried eggs, herbs and avocado.
All recipe ingredients should be cooked to a safe internal temperature according to USDA guidelines. After preparing a recipe, please store any leftovers in the refrigerator.