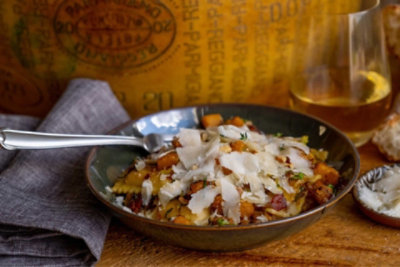 Butternut Squash Ravioli with Caramelized Shallots & Diced Butternut Squash
Fall flavors abound in this quick, delicious & hearty meal.
Total original price
* Estimated price based on adding all ingredients to cart.
Main
12 oz ½" diced butternut squash
2 large shallots, thinly sliced
3-4 large sage leaves, cut across into thin ribbons
2 slices bacon, cut across into strips*
4 brussels sprouts, shredded*
½ tsp fresh chopped thyme
3 Tbsp butter
3/4 cup grated Parmesan and Romano blend cheese
3 Tbsp butter
¼ C toasted walnuts, coarsely chopped
Kosher salt and freshly ground black pepper to taste
9 oz organic butternut squash ravioli**
2 Tbsp grated, plus ½ C freshly shaved Parmesan Reggiano, more to taste
Cooking Instructions
Step 1
Fill a 4 qt pot with water and place over medium high heat to boil while you prepare the sauce.
Step 2
Place the bacon into a 12" nonstick skillet over medium heat and cook until the bacon is fully rendered and crispy, then transfer to a paper towel lined plate, reserving 1 tbsp of the rendered bacon fat in the pan. Add the shredded brussels sprouts and thyme to the pan and cook over high heat until the sprouts and browned and crispy, lightly season with salt and freshly cracked black pepper then transfer to the plate with the bacon.
Step 3
Place the butter into the now empty skillet and return to medium-high heat. When the foam subsides, add the shallots, and cook until the are softened and just beginning to brown. Add the diced butternut squash, season with kosher salt, and freshly ground black pepper and cook until the squash is golden and tender. Add the sage, toss to combine, and cook for 30 seconds.
Step 4
Meanwhile, add salt to the cooking water and add the ravioli. Cook according to package instructions. Reserve a little of the pasta cooking water then drain. Add the ravioli and the 2 Tbsp grated Parmesan Reggiano to the pan with the butternut squash mixture. Toss to coat the ravioli with the squash and shallot mixture, adding a little of the reserved pasta cooking liquid as needed. Next toss in the bacon, brussels sprouts, and ¾ of the toasted walnuts. Taste and adjust seasonings as needed.
Step 5
Portion the ravioli & butternut squash mixture into warm serving bowls and garnish each with a generous topping of freshly shaved Parmesan Reggiano, the remaining walnuts and additional freshly cracked black pepper to taste. Serve immediately.
Step 6 :: Helpful Hints
* We loved these additions, but it's equally delicious is you skip them. Bason, pancetta or crumbled Italian sausage all work well.
Step 7 :: Helpful Hints
** This dish would also be delicious with pumpkin, mushroom, spinach, or your favorite cheese ravioli.
All recipe ingredients should be cooked to a safe internal temperature according to USDA guidelines. After preparing a recipe, please store any leftovers in the refrigerator.