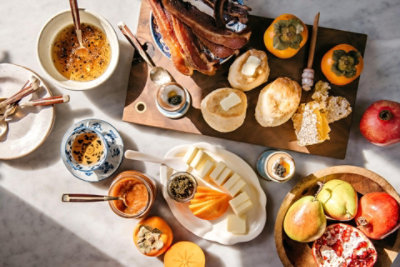 Biscuit Breakfast Board
My father is from the South and biscuits were a serious part of my upbringing—so much so I hosted a Biscuit Brunch at my wedding. When the team at Balducci's asked me to create a breakfast buffet with frozen biscuits I was skeptical, but the biscuits from Mason Dixie totally won me over. They baked up tall and fluffy with just the perfect amount of salty buttery flavor. The Cheddar were favorites with the Caraway Honey, and the sweet potato really wowed with the orange on orange Persimmon Butter. I served these with six-minutes eggs but would be very happy with scrambled eggs or even no eggs at all. Choose a European-style butter—I used a Grazier's Grass-Fed Salted. And don't be afraid to gild the lily. Butter makes it all better.
1 hour, 30 mins
Total cook time
Total original price
* Estimated price based on adding all ingredients to cart.
Seeded Caraway Honey
1 tsp whole caraway seeds
⅔ C mild honey
Freshly cracked black pepper
Flaky sea salt, such as Maldon
Persimmon Butter
4 soft, very ripe Fuyu persimmons (about 1 ½ lb)
¾ C granulated sugar
1 ½ cups water
2 Tbsp lemon juice
1 tsp ginger
½ tsp cinnamon
Pinch kosher salt
Pinch grated nutmeg or cloves, or both
Honey or maple syrup, optional
Cooking Instructions
Step 1 :: Seeded Caraway Honey
Heat caraway in a small, dry skillet over medium-high, stirring often, until fragrant, 3–4 minutes; transfer to a cutting board. Using a knife or the bottom of a skillet, crack into very small pieces. Place honey in a small bowl; add cracked caraway and stir to combine. (If honey is too thick to stir, heat in a small saucepan over low or microwave on high until warm, about 30 seconds.)
Step 2 :: Seeded Caraway Honey
Transfer honey to a small jar with a tight-fitting lid and let stand at room temperature overnight. Store at room temperature for up to 1 month. Drizzle over buttered biscuits. Sprinkle with Maldon salt.
Step 3 :: Persimmon Butter
Working with very ripe persimmons (if they aren't soft, like a ripe pear, wait to make this recipe), remove the stem end and peel each one. Cut into small pieces and add to a pot with the sugar, water, and half the lemon juice. Cook at a gentle simmer on the stovetop for 60–90 minutes, or in an instant multicooker on the pressure cooker setting for about 5 minutes.
Step 4 :: Persimmon Butter
Remove the persimmons and set aside. Reduce the cooking liquid until it starts to caramelize and reduce, stirring from time to time. Combine the cooking liquid and persimmon in a food processor or blender, and purée, adding the remaining lemon juice and all the spices, until very smooth. Taste and adjust to taste with a teaspoon of honey or maple syrup. If you prefer a thicker butter, return to the pot after puréeing, and cook out the liquid, about 10 minutes more.
All recipe ingredients should be cooked to a safe internal temperature according to USDA guidelines. After preparing a recipe, please store any leftovers in the refrigerator.