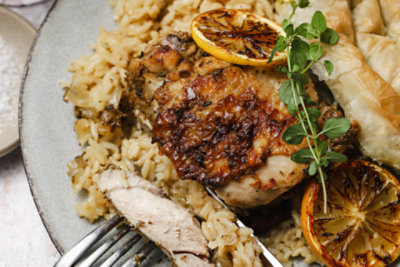 Baked Lemon Chicken and Rice
Let's talk about the beauty of a one pot meal! This cozy baked CHICKEN AND RICE is deeply flavorful (we recommend bone-in, skin-on chicken thighs!), with tender, fluffy rice that absorbs the insanely delicious marinade. Honestly, I wouldn't blame you for making this recipe simply for the rice.
1 hour, 40 mins
Total cook time
Total original price
* Estimated price based on adding all ingredients to cart.
Marinade
2 lbs bone-in, skin-on chicken thighs
3 Tbsp EVOO
2 lemons zested, 1 lemon juiced
1 Tbsp dried oregano
1 tsp Kosher salt
¼ tsp sweet paprika
¼ tsp freshly cracked black pepper
Remaining Ingredients
2 Tbsp olive oil
1 medium onion, diced
1¼ cups long grain white rice
1¾ cups low-sodium chicken stock
¾ cup water
1 Tbsp dried oregano
½ tsp Kosher salt
Optional fresh garnish: oregano leaves
Equipment
Large Ziploc bag or Tupperware with lid
Dutch oven with tight fitting lid
Tongs
Cooking Instructions
Step 1
Marinate the chicken. Pat the chicken dry with paper towels, then place in a bag with marinade ingredients: 3 Tbsp olive oil, 2 lemons zested (about 2-3 tsp), juice from 1 lemon, 1 Tbsp dried oregano, 1 tsp Kosher salt, ¼ tsp sweet paprika, and ¼ tsp freshly ground black pepper. Refrigerate for 30 minutes or up to 8 hours.
Step 2
Brown the chicken. Preheat an oven to 350F. Heat a large dutch oven over medium-high heat. When hot, add 2 Tbsp olive oil, then brown the chicken until the skin is crispy and golden brown, about 7 minutes. Flip and cook on the other side for 4-5 minutes. Use tongs to transfer the chicken to a large plate.
Step 3
Add remaining ingredients. Add diced onion to the pan and sauté until translucent, about 3-4 minutes, stirring occasionally. Add 1 ¼ cups white rice, 1 ¾ cups chicken stock, ¾ cup water, 1 Tbsp dried oregano and ½ tsp Kosher salt, then stir well.
Step 4
Bake the chicken. Place chicken thighs on top, skin side up, then cover tightly and transfer to the oven. Cook for 35-40 minutes. Check rice to see whether it's fully cooked and liquid has absorbed. If not, return to the oven with the lid removed until all liquid has been absorbed and rice is tender. Serve with additional lemon slices (garnish) and fresh oregano.
Step 5 :: Helpful Hints
The second zested lemon can be cut into rounds and used as garnish for serving.
Step 6 :: Helpful Hints
Certainly you do not need to purchase fresh oregano simply for garnish, but we have some growing in our garden. It's a beautiful and tasty addition!
All recipe ingredients should be cooked to a safe internal temperature according to USDA guidelines. After preparing a recipe, please store any leftovers in the refrigerator.