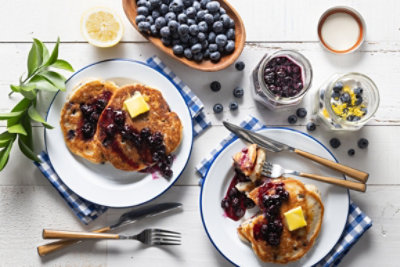 Campfire Mason Jar Gluten-Free Blueberry Pancakes
Recipe Courtesy of Chef Ryan Scott - You won't want to go back to regular ol' pancakes once you've tasted these perfectly balanced, berry-filled, and gluten-free pancakes! Perfect for cool summer mornings and just right for a cozy breakfast-for-dinner!
Total original price
* Estimated price based on adding all ingredients to cart.
Main
1 cup Open Nature® Gluten Free Pancake Mix
1 ½ cups fresh blueberries, divided
3 tablespoons O Organics® dried blueberries, chopped
1/2 teaspoon lemon zest
2/3 cup Open Nature® Plain Greek yogurt (about 1 single-serving container)
1 egg
1 cup Lucerne® milk
3 tablespoons Signature SELECT™vegetable oil
1 tablespoon Lucerne® butter
1/2 cup O Organics® maple syrup
1 tablespoon O Organics® lemon juice
Pinch of O Organics® ground cinnamon
Pinch of O Organics® ground ginger
Pinch of Signature SELECT™salt
Cooking Instructions
Step 1
In a 1-quart mason jar, combine the dry pancake mix, 1/2 cup of fresh blueberries, lemon zest, and chopped dried blueberries. This can be stored at room temperature for a day or in a fridge/cooler for up to 2 days.
Step 2
In a second jar, for the compote, combine the remaining 1 cup of blueberries, maple syrup, lemon juice, cinnamon, ginger, and salt. This jar needs to be kept cold in your cooler or fridge and can be kept for up to 2 days.
Step 3
Preheat your cast-iron pan over a medium-low flame. Pour the yogurt, egg, and milk into the jar with the dry ingredients. Screw the lid on tightly and shake the mixture until combined. Pour a teaspoon of oil into the skillet and spread it around. Pour about 1/2 cupof pancake batter directly from the jar per pancake, keeping about 1-2"between the pancakes. Let them cook on one side until bubbles form and the edges start to look dry, about 3-4 minutes. Flip the pancakes and cook on the second side for an additional 2-3 minutes, until they are fully cooked. Take them out of the pan and keep them somewhere warm while the rest of the batter gets used up.
Step 4
Once all the pancakes are cooked, increase the heat under the pan to a high flame. Add the contents of the compote jar. Stir to combine and let it simmer for 3-4 minutes. Pour the compote back into the jar and serve your warm pancakes with delicious hot blueberry-maple compote!
Step 5 :: Helpful Hints
Technique Tip: Don't be afraid to adjust the liquids in this recipe; if you prefer thinner, more crepe-like pancakes, add a little more milk. For thicker pancakes, use less milk (but the batter will be thick, so you'll have to stir it with aspoon instead of shaking the jar).
Step 6 :: Helpful Hints
Swap Option: Leave the fruit out and use buttermilk in place of regular milk for classic buttermilk pancakes! Or, add mashed bananas or chopped strawberries for a different take on fruity pancakes! Try a tropical version with chopped canned pineapple, and substitute coconut milk in for the milk. Make them with pineapple compote instead of blueberry and garnish with toasted, shredded coconut.
All recipe ingredients should be cooked to a safe internal temperature according to USDA guidelines. After preparing a recipe, please store any leftovers in the refrigerator.